Ditsong SA National Museum of Military History - Maintenance Day
06 September 2021
Saturday 28th August 2021 - Article by Maj Gen RC Andersen (Rtd)
On Saturday 28th August 2021 some forty military veterans supported by ten learners from Pretoria Boy's High, descended on the Ditsong SA National Museum of Military History for a maintenance day.
After coffee and sandwiches sponsored by the Museum's Building and Development Trust the volunteers were welcomed by Roy Andersen, the organiser. Allan Sinclair then introduced his team from the Museum lead by Richard Henry who provided a briefing on COVID-19 safety measures and the procedures to be followed when cleaning exhibits. Reinol distributed 50 litres of cleaning fluid to the cleaning teams.
Members of the Gunners' Association (Johannesburg, Pretoria, East Rand and Vereeniging Branches) commenced with cleaning the GV5 and GV6 guns as well as all the guns in the Gen Dan Pienaar Gun Park. By the end of the morning, they had cleaned all the guns on external display.
MEMBERS FROM JOBURG BRANCH AND VEREENIGING BRANCH BUSY WITH CLEANING GUNS IN THE GEN DAN PIENAAR GUN PARK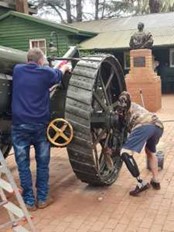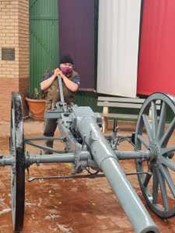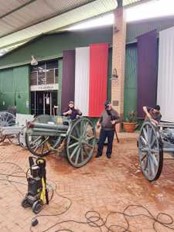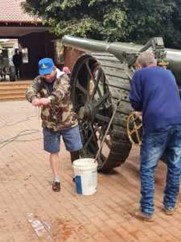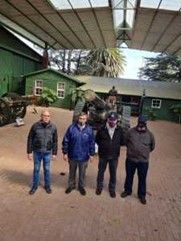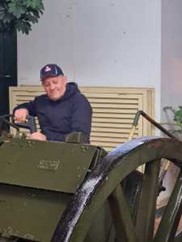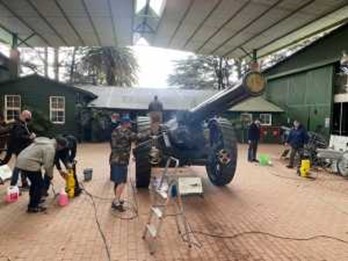 MEMBERS FROM JOBURG BRANCH AND VEREENIGING BRANCH BUSY WITH CLEANING GUNS IN THE GEN DAN PIENAAR GUN PARK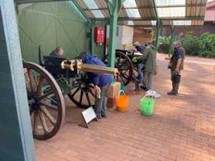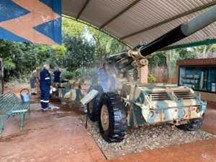 MEMBERS FROM THE JOBURG BRANCH CONCENTRATED ON CLEANING THE MAXIM POM POMS AND THE GV6 AND GV5 EXHIBITS.
Members of the SAAF Association focused on the Impala, Mirage, Buccaneer, Dakota and Alouette. They were ably supported by the boys from Pretoria Boys High School who belong to an aeronautical society at their school. Aerokin kindly provided a team and the necessary chemicals for cleaning and polishing the Spitfire.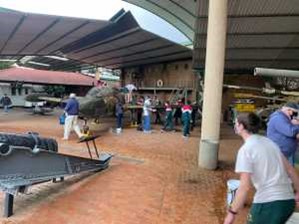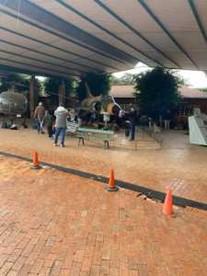 MEMBERS OF THE SAAF ASSOCIATION CLEANING THE MIRAGE AND THE IMPALA.
The Naval Officers' Association focused on the Naval exhibits whilst the Armour Association put their energies into the tanks and the armoured cars.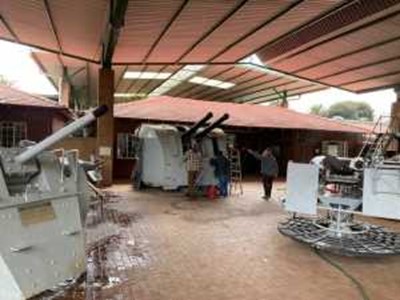 CLEANING THE NAVAL GUNS AND THE MINI SUBMARINE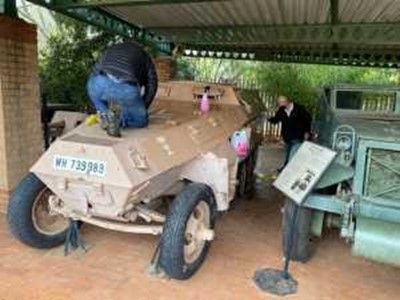 ARMOUR ASSOCIATION MEMBERS HARD AT WORK ON THE ARMOUR EXHIBITS.
The MOTH, the Legion of Associated Airborne of RSA as well as civilian volunteers were given an opportunity to choose the equipment of most interest to them.
MOTH Doggie Jansen announced that Parkhurst Hardware will provide the Museum with a stock of light bulbs for the exhibits
The Director of the Museum, Ms Sandi Mackenzie arrived to inspect the work and expressed her appreciation for a job well done. The external exhibits, after their bubble baths, are looking magnificent.
After a hard morning's work many of the volunteers adjourned to Steel Helmet Shellhole for well earned refreshments and boerie rolls. Thanks go to the Old Bill Derek Wood.
Well done everyone!