Professional Speakers Association Recognises Speakers with Disabilities
03 June 2022
Two professional speakers with disabilities were recognised at last month's annual conference of the Professional Speakers Association of Southern Africa.

Motivational speaker Nicky Abdinor, who has spoken at events globally, was recognised with the prestigious Speaker Hall of Fame award for 2022. This award is presented to professional members of the association who have delivered excellence over a period of years speaking to diverse audiences as a keynote presenter. And Nicky certainly has done that in her many local, national and global speaking appearances.

As an aside, Nicky was the first person I knew of who presented internationally online, way back in the 2010's
Disability advocate Nick Smit was awarded first place in the annual Speaker Factor contest, where he competed against the top associate level speakers from the PSASA chapters across South Africa. Nick's speech, called D.A.N.C.E Your Destiny was well received by both judges and audience.

Nick, also known as the Rebel Ninja, is a passionate disability advocate and teacher and his company Smergos is active in promoting disability awareness and inclusion.

Another link between Nicky and Nick is that they have both been guests on my A Different Way of Seeing podcast, back when I was focusing primarily on accessible travel.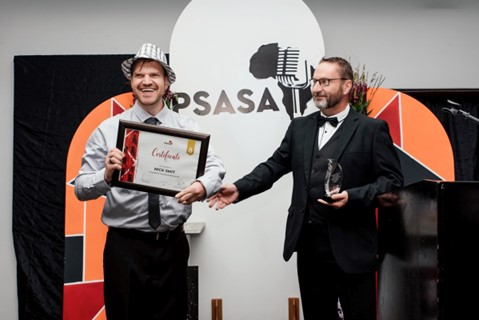 I featured Nicky Abdinor back in January 2019, on episode 05 of the podcast, and Nick and his wife were my guests on episode 50.

You can find those episodes, as well as my full library of past shows, here

If you're looking for a fantastic speaker for your next event, you can't go wrong with either Nicky Abdinor or Nick Smit. Here's where you can find out more.
Nicky Abdinor: here
Nick Smit: here
Source: Professional Speakers Association Recognises Speakers with Disabilities | Lois Strachan